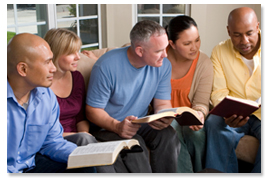 What Happens at an Effective Parenting Support Group?

The Basics

Effective Parenting Support Groups use the Four Goals of Effective Parenting to solve parenting problems:
Be Practical
Focus on the Heart
Be Biblical
Look for Adult Solutions to Children's Problems
For more about these Four Goals, click here.

All group meetings must contain:
Teaching. Either using Effective Parenting materials, other good parenting resources, or just the Bible, present or discuss principles that make families work well.
Sharing. Allow people to share their own particular needs and receive suggestions that conform with the Effective Parenting goals. This is a time for personal encouragement and prayer.
A Suggested Way to Start
If you would like more assistance consider one of our three video programs that come complete with discussion questions. If you would like more assistance, check out the suggested 10-week introductory course using the book, "Say Goodbye to Whining, Complaining, and Bad Attitudes, In You and Your Kids," by Dr. Scott Turansky and Joanne Miller or the 13-session video series by the same title. A full description of what a first and subsequent sessions might look like is presented in the Effective Parenting Support Group Leader's Guide. Continuing to use Effective Parenting resources will keep you going for over seven months. You will also, no doubt, discover other good parenting resources to help you continue indefinitely.