Parenting Children Who are Adopted • • • •
Parenting with Adopted Children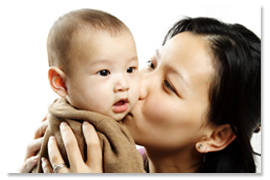 Dr. Scott Turansky has adopted two children who are now grown. The twins, Megan and Elizabeth, came into the Turansky home just before they turned four years old. Not only has Scott learned from his own experience, but also he has counseled with hundreds of parents who have adopted children. Here are some suggestions he offers for working with adoptive children.
1) If you have chosen to increase the size of your family through adoption, congratulations. Although the work may be great, you are following the model of God himself who adopts us into his family. It's not an easy job, but you know that you are doing an important work that will have lasting benefits that go beyond this earthly life. Cherish the delightful moments you have with your adopted child. Share them with others. Help your child develop a new identity in your family and in the body of Christ.
2) Adopted children, by definition, are being raised by someone other than their biological parents. Sometimes it's a grandparent, a relative, a friend, or a family eager to extend their love to others. Something happens however, in the bonding process that often requires extra work to overcome significant struggles. The bonding between a mother and a baby starts in the womb and continues after birth through physical touch, feeding, talking, and connecting in some very special ways. Adoption means that the process of bonding is disturbed. That baby must make an adjustment in order to bond to someone else. Some children are able to make that switch easier than others. For some, trust is broken, making temptations toward dishonesty, anger, and mistrust a real challenge. Extra work is often necessary to help adopted children address the challenges they face.
3) Understanding the heart is so important. You may want to read the book Parenting is Heart Work to get a picture of what the Bible says the heart is. Careful heart work will be needed all along the way to help your child develop integrity, be hard working, develop a proper view of self and family, and to experience life the way God intended. The reality is that when bonding is disrupted, the heart is damaged. Adoptive parents need to understand ways to foster healing in the child's heart.
4) Many of the resources available on our web site for parenting will be helpful for children who are adopted, but you may have to adapt the strategies or techniques for your situation. One example of that is the use of the Break. An important part of repentance has a child spend some time thinking about life alone for a bit, and then initiating to return for a debriefing. This strategy is one of the tools taught in the Heart Work Training Manuals and CDs. But some children who have been adopted experience Reactive Attachment Disorder (RAD) and separation from the parent is misunderstood in the child's heart, especially during the correction process. You can still use a Break to teach the child to settle down, but you may not send the child away to do that. These kinds of adjustments will likely be made along the way as you understand your child's needs more clearly.
5) Spiritual training is essential. Talk about the Lord. Express gratitude that God has adopted you into his family. Be spiritually demonstrative by praying during the day, talking about things you're learning from God's Word, and just express an awareness of God as you go through your day. You'll likely want to use the Family Time Activities books to help you engage in important and deep conversations with your child. Adoptive children often have greater needs to understand the basic questions of life, "Why am I here?" "How did I get here?" "Where am I going?" God's sovereignty is the answer because he is in control. Telling Bible stories like those of Moses, Joseph, Esther, and Daniel also help children understand the plan of God and how different families can be. God loves us and wants to use all of us; he often uses life's circumstances to prepare us for serving him.
6) Setting up routines of how we operate in this family is important for any child but those who have been adopted often need special emphasis in this area. Making life predictable gives a sense of security, allowing adopted children to develop trust. The Heart Work Training Manuals and CDs will be extremely instrumental in helping you develop relational routines with your children. These become the unwritten guidelines for how we handle common areas of family life.
7) The book Family Heart Moments gives many illustrations of ways that you can connect with your child's heart. Some of those stories happen in the lives of adoptive families. Pray for heart moments every day. These may be relational connecting points or light-bulb moments where your child actually gets new understanding about life.
8) Be honest with your child about the adoption. That doesn't mean that you share everything right away. Some pieces of information are best shared after the child grows a bit and is able to understand the situation better. Some children have a greater curiosity about their birth parents than others. You'll want to use wisdom as you help your child explore his or her past.
9) Don't be put off by angry comments from your child. Kids can say some pretty hurtful things in the heat of emotion. When your child says things like "I'm ready to go to the next home," or "I'm going back to live with my birth mom," recognize those as hurtful comments coming out of your child's own pain. You don't necessarily have to address them, certainly not on the spot. Adoptive children often wrestle with identity issues and those are sometimes revealed during emotionally intense moments. Your own emotional stability in these situations is helpful. You can be sad, and feel hurt, but don't react with anger.
10) Specialized problems may need to be addresses so be ready and watching for those symptoms. Sometimes adopted children face challenges with addictive personalities, conscience weaknesses, or fears of abandonment. Sometimes the need special help to deal with eating disorders, emotional explosiveness, or violence. Don't be frightened by those possibilities. Just be ready to get help at the first sign of a problem. Early intervention can often help children overcome tendencies or temptations.
You have an amazingly significant ministry as you parent your adopted child. You'll want to continually be learning and growing. Remember that there are solutions out there. You may have to look a little harder to find them but they are there. If you are feeling overwhelmed, get help. Support from others can often be helpful and encouraging.