Teaching Children About Sex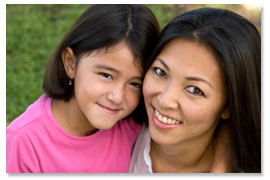 Sexuality issues can be hard to talk about, especially when it's a parent talking to a child. But this is a very important aspect of parenting. In our day and age, it's not sufficient to have one conversation about sexuality when your child hits puberty. Children today are continually bombarded with messages about sex from the media and from their friends. Sex is in advertising, on TV, in music, and even taught in schools. Children need to know and understand God's perspective on sex and relationships early on. Furthermore, parents can't wait until a child initiates, they need to be prepared and ready to take the initiative to teach values and convictions along with the facts.

| | | |
| --- | --- | --- |
| Video Tour 8 | | |
Watch a freevideo of Dr. Scott Turansky talking about how he taught his teenage daughter about sexuality.
Read an article about teaching your child about sex.
If you have teens you'll want to listen to this "Sex Talk" by Dr. Turansky and have your teens listen to it as well. He shares this open and honest talk with young people taking principles from Proverbs 4-7.
We encourage parents to begin dialogue with their children as young as preschoolers, teaching about privacy, body parts, and appropriate play. As children grow older they'll need more information about reproduction, sexual intercourse, the importance of sexual purity, and God's design for relationships. To help you with this subject you may want to start with the book How to Talk Confidently with Your Child about Sex. Using Christian values, this book guides you through the process, knowing how and what to say to your child about sexuality at any age. We also have five books for children of various ages. Each of these books is designed for a child of that age and developmental stage. The books are for children ages 3-5, ages 6-9, ages 10-12, ages 11-14, and for ages 14 and up. The younger age books are designed for the parent to read to the child, the older age books are meant for the child to read. The books are clearly written toward that developmental stage and interest.
Children need to learn about sexuality at home in the context of God's design. If you feel uncomfortable with having that kind of dialogue, using these books can be very helpful. We would recommend that you have a discussion at least once a year going through the appropriate book. Each year children will have additional questions and their development will allow them to understand more than the previous year. Some concentrated effort in this area can help set your child on a positive course toward successful relationships both now and for the future.