Parental Anger, Yelling, and Nagging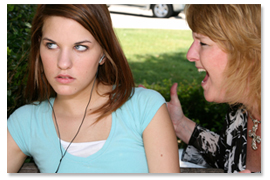 If you feel like all you do is yell at your kids, you're not alone. Parents don't start out their parenting career with a plan to yell but somehow the yelling and nagging sneak in. Most parents tell themselves they'll be different than other parents. They won't treat their children that way. Unfortunately, it's not long before the frustration grows and parents find themselves resorting to yelling in order to get anything done. But it doesn't have to be that way.
One of the classes in Biblical Parenting University focus on emotions. You'll learn about parental anger, a plan for children's anger and you'll have access to the four hour class and five hours of webinar content focused on this subject. You'll find loads of solutions that you'll be able to apply to your family.
Parents who nag and yell usually don't have an adequate plan for the challenges they face. Their frustration grows and they resort to yelling to get kids moving. That's not necessary although some parents say, "My kids won't do what I say unless I get angry." That's because you've trained your children to recognize your anger as your action point. An action point is the point where you stop talking and start acting. The book Home Improvement, The Parenting Book You Can Read to Your Kids teaches a number of helpful tools for every family. Chapter one talks about developing a tight action point and teaching children to recognize it. Nagging and yelling are two signs that your action point isn't tight enough. Anger isn't necessary but firmness is.
Parents who use anger to solve problems lack other good strategies. That's why the book Good and Angry, Exchanging Frustration for Character in You and Your Kids was written. Dr Scott Turansky and Joanne Miller, RN BSN identify seven things that make parents angry and then offer practical solutions for addressing those problems through character development. This book provides parents with the tools to see kids change without using anger. Once you have a plan to deal with the particular problem, you'll see your anger decrease.
Much of the anger that parents experience comes from the frustrations of life. They have blocked goals, violated rights, or unmet expectations. Knowing how to address these particular challenges is important and often requires adjusting habits of reacting. God has designed the family as a laboratory for growth. Your ability to deal with frustration in a more self-controlled manner is an essential part of what God wants for you. It takes practice and work. Reading good parenting books or listening to CDs can equip and motivate you to move forward in this area.
Sometimes, however, the anger issues a parent experiences are from unresolved hurt. There seems to be a resident anger inside that needs to be addressed. In the last chapter of the book Good and Angry, Exchanging Frustration for Character in You and Your Kids you'll find helpful tools for addressing the deeply rooted anger from past hurt in your life.
If your children are struggling with anger then you'll want to look at the resources we have available for anger in children.
Dealing with anger will help you to be more effective as a parent. It's hard, requires some rethinking and reworking your responses to life, but it has tremendous benefit for your children and for your own personal growth. Pray that God will give you the courage and strength to make the necessary changes. Pray that God will heal your heart and help you to move forward. Now is the time to develop new patterns and grow in this essential area of your own life.