Mealtimes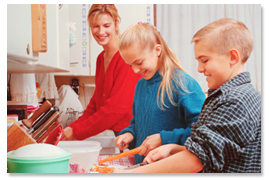 Mealtimes are an important part of family life but all too often they become areas of tension. Poor manners, challenging food preferences, and just plain selfishness can turn mealtimes into battle zones. In addition, differing parenting styles tend to add to the friction.
Parents need to come to some level of agreement on how to address these challenges if families are going to get the most out of mealtime. We believe that much of the individual discipline needs can be dealt with during other parts of the day, so that mealtime can be preserved for relationship.
It's important to have regular times to eat together. Mealtimes are more than just times to consume food. They're opportunities to dialogue and build relationship together. Turn off the TV, require all members to come to the table and interact together. Here are some strategies to get the most out of your mealtimes.
1) Busyness often crowds out family time. Carve out times to be together around meals as much as you can. If you're too busy to eat together, you're likely too busy.
2) De-emphasize manners and diet. It's been said that more meals are ruined at the table than at the stove. An overemphasis on manners and diet can turn the whole mealtime into a negative experience. Yes, manners are important and teaching them is helpful, but be careful not to make that the dominant focus of the meal. Often gentle reminders are enough to move children in the right direction.
3) If you're concerned about what your child is eating, look for strategic ways to change it rather than using direct confrontation during a meal. You might offer only healthy snacks between meals, serve very small portions on children's plates and allow them to ask for more, and focus on conversation rather than on food. It's often more important what children hear and say during that mealtime than what they eat. After all, hunger is a natural consequence of not eating, and kids appetites vary, so allow them to determine how much they want to eat. Also allow curiosity to motivate them to try new things, not parental mandates.
4) Plan the social component of the mealtime not just the food. Bring stories, jokes, riddles, and other fun dialogue to the table. Let kids talk about their highlight and lowlight of the day. Engage children in positive interaction and watch the fun bubble up around the table.
5) A child who detracts from the mealtime may need to be disciplined. Bad attitudes, anger, or resistance may all require correction of one kind or another. Rarely is it beneficial to send a child to his or her room since that's usually a place of entertainment and distractions. Having a child take a Break in the hallway or on the bottom step of the stairs until settled down and ready to participate may be all that's needed.
Remember that mealtimes can be an excellent time to illustrate family values through stories and examples. You'll also be able to trouble shoot problems and teach children how to face the challenges of their days. A little readjustment of your focus and attitude can turn mealtimes into a pleasant and productive experience for everyone.