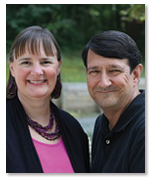 Our Story
After years of blood, sweat and tears in moving our own children along in their development and volunteering to support countless other families in the same boat, Julie got some training and began evaluating kids and giving their parents step-by-step activities to make a difference in their development. AND THEN, knowing that nutrition is such a huge piece of the puzzle in the development of children, we decided it would be a good idea for Tom and Julie to attend the Institute for Integrative Nutrition.
We began to think: "What if we could take all that we have learned raising our babies, supporting other families with challenging children, getting training in understanding the brain and in nutrition and put it all into a package that would be an awesome help to families?"
We know what it is like to agonize over realizing that what we were currently doing wasn't helping our kids. We know about sleepless nights wondering if we were going to make it through the next day with our sanity intact. We know the bone-weary exhaustion of keeping on when there was no ounce of strength left in our bodies. We know the relentless turning over every rock to find help for our kids. We know the joys of seeing a glimmer of hope in the darkness. We know the loneliness of experiencing things our friends knew nothing about. We knew in our gut that something was wrong at times when others could not see it. We had the privilege of participating in the miracle of our children making progress. Sometimes it was agonizingly slow - but we now have the privilege of seeing the results of our hard work. Our children are vibrant and happy and growing young people able to do exceedingly more than we could ever have imagined.
We knew we had to do this work as March Forth Family. We feel called to do this work -- for specific families so they, too, may be supported in this particular way in their journey.
So, we have made a commitment to dedicate the rest of our professional lives to helping families navigate the scary world of raising a challenging child. What we did made a significant difference in the lives of our children and countless other children -- we are committed to bringing that to other families.
Tom Meekins, BS, MAR, CHHC
Julie Meekins, CHHC