In 1995, our fourth child was born not breathing. Soon after, she was diagnosed with CHARGE syndrome and given this prognosis: "she will be blind, deaf, and mentally retarded, probably will not walk, talk or eat by mouth."
 Thus began an amazing God story – not only for her, but for our entire family. Soon after Amy's birth, our only son – two years older than Amy – began to exhibit behavior struggles and significant health concerns. Those issues created learning struggles. Joshua is another incredible God story. Through raising Amy and Joshua and their two older sisters, Rebecca, and Katie, we learned much about God's incredible faithfulness and much about child development, biblical parenting, and nutrition. God began to tug on our heartstrings for ministry to other parents whose children were struggling.
 We know what it is like to agonize over realizing that what we were currently doing wasn't helping our kids. We know about sleepless nights wondering if we were going to make it through the next day with our sanity intact. We know the bone-weary exhaustion of keeping on when there was no ounce of strength left in our bodies. We know the relentless turning over every rock to find help for our kids. We know the joys of seeing a glimmer of hope in the darkness. We know the loneliness of experiencing things our friends knew nothing about. We knew in our gut that something was wrong at times when others could not see it.
 We also learned as the children were growing and know now beyond a shadow of doubt that God loves our kids more than we ever possibly could. This is true for your children, too. God promises to give each of us all that we need for life and godliness. That includes parenting a child with challenges — any kind of challenges. From learning disabilities to syndromes to sensory concerns and everything in between.
 We had the privilege of participating in the miracle of our children making progress. Sometimes it was agonizingly slow – but we now have the privilege of seeing what God has done and is doing with our children. They are vibrant and happy and growing adults able to do exceedingly more than we could ever have imagined.
We have the great privilege of walking with parents helping them become more confident in parenting their child with special needs. We created Champions4Parents.com to offer parent resources and tips and strategies for raising a child with challenges. We work hard to create community for parents to support one another. We speak at conferences in person and online and help parents meet up together.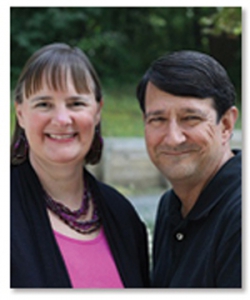 Tom Meekins, BS, MAR, CHHC
Julie Meekins, CHHC