Listen to Dr. Scott Turansky teach.
My name is Scott Turansky. I'm 64 years old and I live in the town of Lawrenceville, New Jersey, just between Trenton and Princeton. I began working with parents when I directed a preschool in the early 80s. I saw that many parents lacked skills that would help them be most effective with their kids.
As a pastor, I've been a student of the Bible. As a parent and preschool director I was a student of children and their parents. It wasn't long before I developed a love for helping parents and using the scriptures to do so.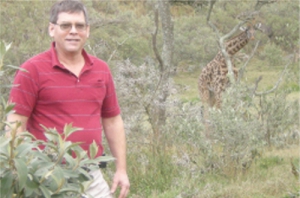 On Safari with my son Ben while I visited him stationed in Africa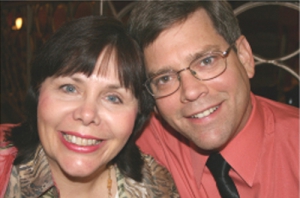 Carrie and Scott
I met my wife Carrie in the mid-1970s and we were married in 1978. Carrie is a very creative person as seen in her art, cooking, and the way she makes our house a home. She is an author women's inspirational fiction with several books published. You can learn more about her at carrieturansky.com.
Carrie and I have five children. Josh is married to Melinda and they have three children, Hudson, Hayden, and Hanale. Josh is a pastor at Haven City Church in Baltimore MD.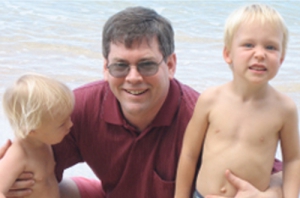 Hudson and Hayden, two of our grandchildren, are a treasure.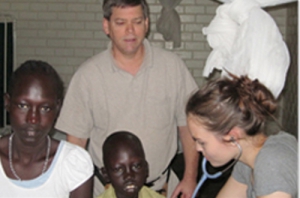 I went on rounds with Melissa at the hospital in Sudan.
Melissa is married to Peter and they lived in Southern Sudan for several months of 2010 working at a hospital in Akot. Then they went to Haiti to help with the cholera epidemic with Samaritan's Purse. Melissa is a nurse and Peter is a leader/manager. They are currently in New York City working for a foundation that provides economic aid to African countries. They have a daughter named Lenna which means "Lion hearted."
Ben is a US Marine stationed in North Carolina and is married to Galan and they have a little girl named Sahlor and a boy named Everett. Megan is married to Walter and lives nearby and works as a pet groomer. They have a wonderful little boy Liam born February 16, 2021. Elizabeth also lives nearby and has a sweet spirit.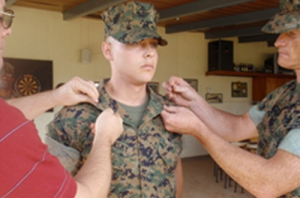 I was part of Ben's promotion to Master Sergeant
I love my family and enjoy communicating with them via twitter, facebook, cell phone, Skype, and personal visits wherever they are in the world.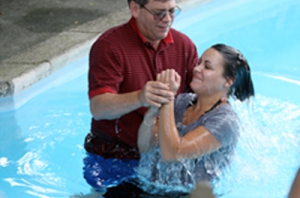 Watching people grow in Christ is a highlight of pastoring and I love my church, Calvary Chapel Living Hope, where I pastor. Working with parents has always been a privilege of mine. I counsel with families several times a week, write books that will help parents apply God's principles to practical problems they face every day, and teach parenting seminars around the country.
I find being out in nature and birding a very relaxing pastime.  Studying leadership in its various forms is a valuable way of keeping myself resourced and informed.
Since I'm in the scriptures every week, I'm often getting new ideas of ways to help parents with their kids. In particular Joanne Miller and I have developed what we call a heart-based approach to parenting.
I find that most parents use a behavior modification approach that often misses the hearts of the kids. So, my goal is to communicate heart-based practical strategies to parents that are more effective to maximize their parenting.
Behavior modification basically says to kids, "If you do what I say you can have what you want." That whole approach appeals to the selfishness in kids. Unfortunately it usually backfires on parents when their kids say things like, "What am I going to get if I do what you say?" or "What's in it for me?"
All children are unique and every child needs training. In fact, I regularly tell parents that "your child needs therapy and you're the best therapist for your child if you have a good plan. I can help you develop a specific plan tailored to your child."
I enjoy helping parents with specific strategies for their unique parenting situation.
Education and Professional Background
I graduated from Portland State University with a BA in Speech Communication. I then went to Western Seminary where I received two masters degrees, one in Divinity and the other in Theology. While there I took every Bible course twice so that I could learn from different teachers. I also took 30 hours of Greek and 33 hours of Hebrew so that I could understand the Bible's original languages.
I then went to Fuller Theological Seminary where I received my Doctor of Ministry degree in Organizational Management and Strategic Planning. I use many of the skills I learned in that program as I try to help parents develop strategies for heart change in their children.
I've been a pastor since 1980. My first church was in Mililani, Hawaii, pastoring with my father for 8 years. He helped me learn to teach the Bible verse by verse and look for practical applications to apply the scriptures to people's lives. Working with him was worth just as much as my seminary training.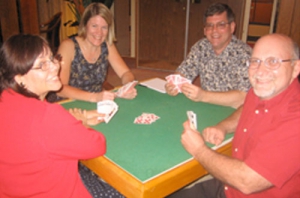 Ed, Joanne, Carrie, and I enjoyed a cruise in the Caribbean a few years ago.
In 1988, Carrie and I moved our family to Lawrenceville, New Jersey where I began pastoring a church with three other men, one of whom was my good friend Ed, Miller. We are still great friends today. While ministering there I met Ed's wife Joanne. Our families grew close and we have shared vacations and life experiences for over 25 years. Ed, Joanne, Carrie, and I still go on vacation together most years.
Future Plans Hopes and Dreams
I have a lot of goals and dreams for my life. As I look at the next five years here are a few of the things I'm working on or will be working on.
Along with my wife, continue to be involved in the lives of my children and grandchildren.
Continuing to develop Calvary Chapel Living Hope, a church that models family ministry.
Continue to teach live parenting seminars around the country. In 2016 Joanne Miller and I spoke in 60 churches all over the US and we've now trained over 150 presenters to also teach live parenting seminars.
Empower parents to pass the faith on to their kids and mobilize churches to equip them.
Continue to coach families both in my office and on the phone around the country.
Continue to train coaches for the Biblical Parenting Coaching Program.
Contribute my skills and abilities to the 4/14 Window Initiative to reach children and youth around the world through their parents.
May God richly bless you and your family!
What are your favorite foods?
I love pistachio nuts.
also love anything my wife cooks. I'd rather eat her cooking than go out for dinner
When I do go out to eat, I love Mexican food
Tell us about your hobbies.
My wife, children, and grandchildren are a great source of entertainment and enjoyment.
I love birds and have about 10 bird feeders in my backyard and an iphone app that calls birds from the area to my backyard.
I love my iPhone and use it to do amazing things like start my car, regulate the heat in my house, and find the closest Mexican restaurant.
What do you do for rest?
One of my favorite quotes of Joanne Miller is that "Sleep is overrated." I love what I do and avoid getting worn out by rotating activities from pastoring, to writing, to leading, to family, to counseling, and to managing the National Center for Biblical Parenting. I love life and enjoy the many facets of ministry.
What do you like to read?
I read a lot. People send me books and I read most of them. I like to read most anything on the subject of leadership and parenting.
Who has had a significant impact on your life?
Probably the greatest would be my father. He mentored me from early childhood, provided ministry opportunities throughout my teen years, and allowed me the privilege of pastoring with him for eight years after seminary.
What are your favorite resources at NCBP?
"I love the Heart Work Training Manuals and audio sessions. That resource came out of our counseling ministry and is so practical. It contains the solutions that parents need now!"
"I also love the Family Time Activities books. Each activity contains a surprise or is intriguing in some way, but most importantly children are learning from their parents that the Bible is relevant and exciting."— Scott Turansky