Cooperation Smooths Out Family Life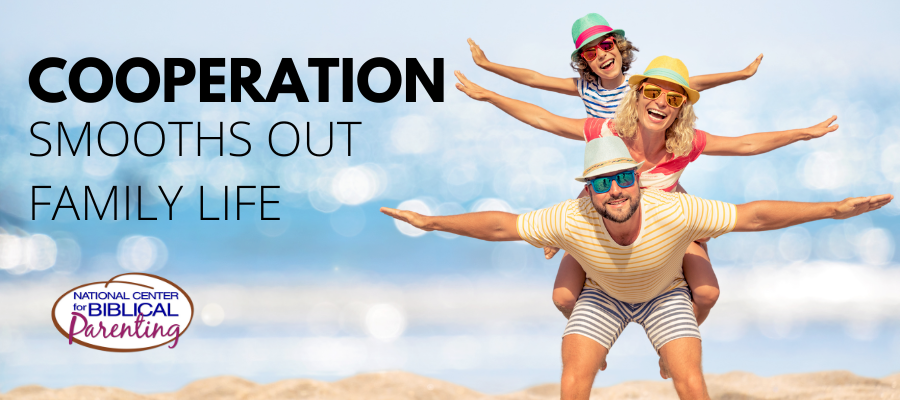 THE SUMMERTIME SWITCH
School's out, and the summertime switch has happened: kids switch from being at school to being at home. But there's something that happens with this switch that quite frankly bothers me.
Let me give you a few examples and see if you pick up on what it is:
On the last day of school, some teachers wear t-shirts with messages like "Tag, parents. You're it." or "Teacher Mode – OFF" with an off switch. Some parents wear the "Tag, teachers. You're it" t-shirt when school begins, too.
Parents at the bus stop talk about all the camps, multiple VBS programs, and activities they signed their kids up for to "keep them busy" so they "stay out of trouble at home."
A few honest parents express how they are worried about their kids being home and that they "just don't know what to do with them."
Parents talk about the countdown to school starting and not being able to wait to have their kid back in school.
As back to school TV commercials start one will include a parent dancing through a store grabbing school supplies as the song "It's the Most Wonderful Time of the Year" plays in the background.
Did you pick up on the problem?
These examples feed into the idea that kids are a burden to be tolerated. Oh, don't get me wrong. I know these parents (and the teachers) love their kids. But the words and actions reveal a wrong belief in the heart. Part of the problem is that being a parent (and a teacher) is challenging because working with kids can be challenging. Many adults are just unsure of what to do when problems arise. This mixed with a bit of selfishness in the hearts of adults is what's behind all of this.
So what do we do?
PROBLEMS START IN THE HEART
The first step is changing the beliefs in our own hearts to better match what the Bible says about children. Psalm 127:3 says, "Children are a gift from the Lord; they are a reward from Him." We need to plant verses like this and similar ones deep within our hearts.
There are many practical ways to plant God's Word deeper in your heart. One parent wrote Bible verses like this on a note card and used the note card as a bookmark in her Bible. Then whenever she read her Bible, she paused to read the verses on the note card. Another parent did something similar but instead made several note cards and hung them in strategic locations like above the kitchen sink and on the bathroom mirror. He committed himself to reading these cards anytime he was in these places. You could even find Bible verses set to music or rewrite a single verse daily in your journal.
Another important step in this process is prayer. We need to ask God to give us His heart for our kids and to help us have His perspective on the challenges we face in family life each day. It's important that we understand that helping kids get back on track when they misbehave is not an interruption to our day but an important part of parenting our kids.
We also need to focus on relationship building by being available for our kids. Have fun together by going to the pool, stopping by the park, and playing games together. Be available to talk to and hang out. Find what interests your kids, and then get into their worlds by joining them in those activities.
INCREASING COOPERATION IS KEY
Changing our own hearts is an important first step towards increasing cooperation in our family. Cooperation can be defined for kids as following through on what you're told to do quickly, completely, and cheerfully. Gosh, wouldn't it be a dream to live in a family where cooperation was the norm?!?
Well, that can happen but it requires that we intentionally focus our parenting on the heart. Cooperation is about a relationship between you and your kids, and to increase cooperation, both you and your kids must make changes.
A great way to start is by developing a simple, predictable routine for how tasks get done in family life. Families are busy and have lots to do: getting dressed, eating meals, going to school, keeping appointments, completing chores, and much more. Getting tasks done is important, but it is never more important than how we get those tasks done.
How we get tasks done impacts our relationships. Cooperation is key to maintaining relationships and getting tasks done smoothly. Kids and parents need heart practice to develop a simple instruction routine to help make cooperation a part of everyday life in a family.
If you'd like to get started working on this using the same tools that countless other parents have found great success using, here's a free video resource you can use called 5 Simple Steps to Get Your Kids to Follow Instructions. Over the course of 5 days, you'll get 5 brief, focused videos giving you practical steps to strengthening your relationship with your kids as you work on getting things done in family life. Every day, you'll be able to put a new piece into practice and see the dynamics and momentum in family life change at the heart.
https://biblicalparenting.org/wp-content/uploads/2023/07/NCBP-900x400-Blog-Art.png
400
900
Joanne Miller
https://biblicalparenting.org/wp-content/uploads/2020/06/NCBP-Logo-with-hearth_medium-300x180_OP.png
Joanne Miller
2023-07-10 12:16:59
2023-08-02 07:11:03
Cooperation Smooths Out Family Life