Unleashing The Power Of Grace In Your Home


Step into any home, and you'll find a tapestry woven with both joy and brokenness. Each family member carries their own unique challenges, struggles, and imperfections. But amidst the chaos, there is a profound force waiting to be unleashed—a force that can heal wounds, inspire growth, and transform lives. That force is grace.
Grace, at its core, is the recognition that none of us are perfect; we all stumble and make mistakes. It is the powerful catalyst that creates an environment where weaknesses are addressed with firmness, and forgiveness and understanding allow for healing to permeate every corner of the family unit.
1 Peter 5:10 says, "And after you have suffered a little while, the God of all grace, who has called you to his eternal glory in Christ, will himself restore, confirm, strengthen, and establish you."
Drawing inspiration from this verse, we uncover four transformative factors that motivate parents to infuse grace into their homes: restoration, confirmation, strength, and establishment.
Restoration: Breathing Life into Brokenness
A key element of a child's identity is their brokenness. This isn't commonly taught, but just think about it for a moment. Grace is needed for the brokenness of our lives. When children understand this aspect of grace they can accept correction more readily, they have more forgiveness for self and others, and they are then ready to extend grace to others who make mistakes. This is a powerful aspect of a child's understanding of themselves. If they don't get this, they'll be defensive with correction, critical of others, and angry with life.
Confirmation: Embracing Identity and Worth
Grace confirms our identities, affirms our worth, and fosters a sense of belonging within both the family unit and our relationship with God. It reassures each family member of their rightful place and inherent value. In a grace-infused home, individuals feel acknowledged, accepted, and challenged when necessary. Grace molds our identity to reflect the character of Christ.
Within this environment, parents and children learn to affirm one another's strengths, talents, and unique qualities. When differences or problems arise, grace equips us with the tools needed to address them with clarity and compassion. When much of our world is trying to teach children that their identity is in sports, academics, or friends, you help them recognize that their identity is in something that's much bigger and more important for their lives.
Strength: Forging Unbreakable Bonds
Grace strengthens the bonds that tie families together. It fortifies their resilience and equips them to face challenges as a united front. With its transformative power, grace provides the inner strength and courage required to navigate difficult seasons, conflicts, and transitions.
When a child strays from the right path, grace steps in to say, "You cannot live like this. Change is necessary." It sets the goal and provides the direction needed to overcome the daily challenges of life. In the face of adversity, grace empowers families to remain steadfast and supportive. It nurtures open communication, empathy, and teamwork. Don't be confused. Grace doesn't mean leniency when it comes to training. Children need firmness. When parents take on a coaching mentality their approach to training is firm but loving.
Establishment: Building a Foundation of Love and Security
Grace establishes a firm foundation for family life—a bedrock of stability, security, and rootedness. Within its embrace, trust, love, and faith thrive, enabling the family unit to flourish. It creates an environment where healthy boundaries, consistent discipline, and nurturing atmospheres foster growth and development.
Grace teaches children to accept imperfection because they aren't perfect, they are in process. Grace helps a child accept correction because it's a gift that empowers them to grow more effectively. Grace even helps a child manage electronics because it calls a person to balance many aspects of their calling.
When parents help their children understand the practical applications of grace to their lives, kids will learn to avoid the That's not fair! Trap. Grace realizes that each person is unique and that's why parents treat children differently and not the same. Grace empowers children to handle conflict better so that they work toward solutions.
Grace is powerful and the sooner children learn to embrace it the better. Look for practical ways to teach it and your kids will be strengthened both now and for their future.
Biblical, Practical, Heart-Based Guidance at Your Fingertips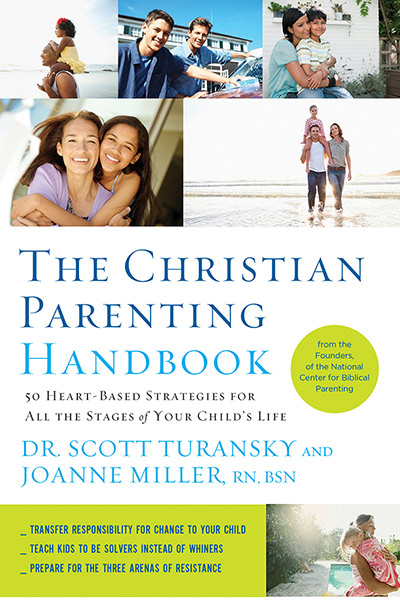 The Christian Parenting Handbook: 50 Heart-Based Strategies for All the Stages of Your Child's Life
Nuggets of parenting wisdom condensed into 50 short chapters, each one biblical, practical, and relevant for parents of children ages 2-18. Learn appropriate ways to correct, instruct, and set limits. Glean wisdom for dealing with emotions, conflict, and developing closeness in your family… and much more. These 50 strategies provide you with hands-on tools for parenting children of any age.
You will learn
A practical tool to stop children's arguing
How to separate firmness from harshness
A strategy to help children change their hearts
Ways to teach kids to add energy to family life
Solutions for sibling conflict
The relational side of parenting
What to do when parents don't agree
How to help kids who are blamers
and much more
https://biblicalparenting.org/wp-content/uploads/2023/06/Biblical-Parenting-764-x-290-1.png
290
764
anna.vorkforce
https://biblicalparenting.org/wp-content/uploads/2020/06/NCBP-Logo-with-hearth_medium-300x180_OP.png
anna.vorkforce
2023-06-14 21:27:19
2023-08-07 08:13:21
Unleashing The Power Of Grace In Your Home