Rock Your Parenting World With Our Newest Video Training Program: Home Improvement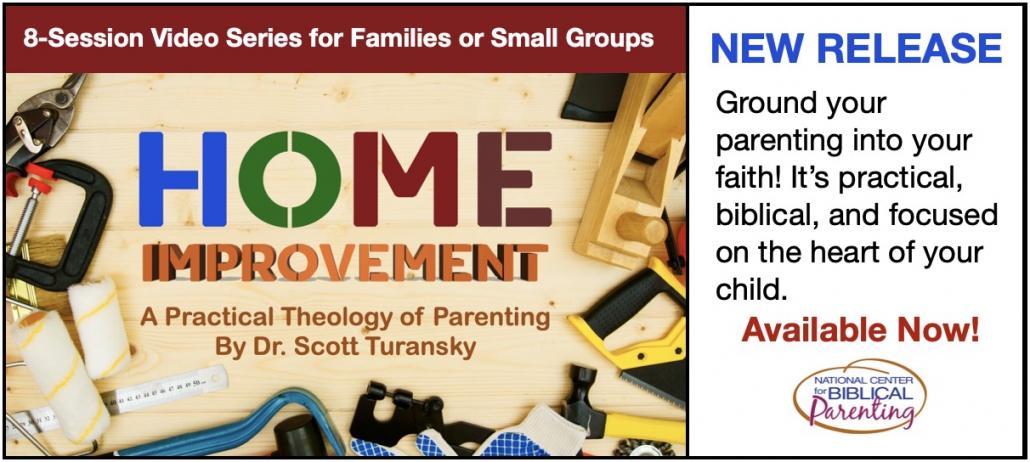 At the National Center for Biblical Parenting, we understand the challenges and joys that come with raising children. We all desire to provide our kids with a solid foundation, rooted in faith and character. That's why we are thrilled to introduce our latest video series, Home Improvement: A Practical Theology for Parenting. This transformative series combines practical insights with the timeless wisdom of theology to equip you with the tools you need to navigate the intricacies of parenting.
Are you ready to take your parenting to new heights?
Imagine a parenting journey where obedience is more than just completing tasks, where correction leads to genuine heart change, and where emotions are understood and harnessed effectively.
The Home Improvement video series offers precisely that. It tackles vital topics such as morality, discipleship, wisdom, and strongholds, empowering you to raise children who love God and others.
As parents, we understand your aspirations and desire to provide the best for your children. With eight engaging sessions, accompanied by an interactive workbook and a valuable parenting book, this resource is designed to revolutionize your approach to raising children. Here are the eight topics we'll cover:

Session 1: A Theology of Obedience: It's not just about the task, it's about the process. Discover the true essence of obedience as this session unveils how to instill a deeper understanding of obedience in your children. Learn how to go beyond mere compliance and embrace a process that cultivates character and strengthens their relationship with God.
Session 2: A Theology of Repentance: It's time for a change of heart. Explore the transformative power of repentance as you journey with your children towards a change of heart. Discover practical strategies to foster genuine repentance and guide them in making amends and seeking forgiveness.
Session 3: A Theology of Correction: A good response to correction makes all the difference. Learn how to respond to correction in a way that fosters growth and character development in your children. This session equips you with practical tools to navigate correction effectively, fostering a positive and healthy learning environment.
Session 4: A Theology of Morality: Rules are important, but they must be tied to values. Discover the importance of connecting rules to deeper values in your children's lives. Explore how to teach them moral principles that will guide their decision-making and shape their character, laying a solid foundation for their future.
Session 5: A Theology of Emotions: Emotions are good, but can be dangerous. Understanding emotions is crucial for healthy emotional development in children. This session dives into the significance of emotions, teaching you how to navigate their complexities and guide your children in expressing and managing their emotions in a healthy manner.
Session 6: A Theology of Discipleship: Always keep the bigger picture in mind. Learn how to lead your children in a life of discipleship, keeping their focus on the bigger picture. Discover practical ways to nurture their faith, help them grow in Christ, and equip them to make wise choices throughout their lives.
Session 7: A Theology of Wisdom: Teaching kids to learn from life equips them forever. Wisdom is a priceless gift to impart to our children. This session provides you with practical strategies to teach your children how to learn from life experiences, make wise decisions, and navigate challenges with discernment and maturity.
Session 8: A Theology of Strongholds: Deeply rooted challenges need a strategic approach. Gain insights into dealing with deeply rooted challenges your children may face. Learn how to develop a strategic approach to help them overcome these obstacles and walk in freedom and victory.
Imagine the impact these sessions can have on your family dynamics. Picture your children growing in obedience, genuine repentance, emotional intelligence, and wisdom. Envision a home where challenges are transformed into opportunities for growth and character development. The Home Improvement video series, with its thought-provoking content, will equip you with practical strategies and insights to create lasting change in your family.

Don't miss out on this incredible opportunity to transform your parenting journey!

Visit our WEBSITE to access the Home Improvement video series, interactive workbook, and accompanying book. Join the countless parents who have experienced the positive impact of our resources. Embrace this chance to revolutionize your approach to parenting and raise children who love God and others.
Invest in your family's future today with Home Improvement: A Practical Theology for Parenting. Empower yourself with invaluable tools and wisdom, and embark on a parenting journey that will shape the lives of your children and leave a lasting legacy. 
We invite you to watch a heartfelt video testimony featuring a mom and her two daughters who have experienced the transformative power of the Home Improvement book. In this video, they share their personal journey and how reading the book has positively impacted their family dynamics. Watch the inspiring video testimony here:
To get a glimpse of what the Home Improvement video series offers, we encourage you to
watch this one-minute promotional video:

Home Improvement: A Practical Theology of Parenting video series by Dr. Scott Turansky is an invaluable resource for parents seeking to nurture healthy, God-centered relationships within their families. Through engaging sessions, an interactive workbook, and an accompanying book, this series equips parents with practical strategies rooted in faith.
Don't miss out on this opportunity to strengthen your parenting skills and deepen your family's connection. Use the discount code "ParentSavings" to enjoy a 10% discount for churches and individual families. Invest in your family's future today!
https://biblicalparenting.org/wp-content/uploads/2023/05/HI-New-Release.jpg
544
1212
anna.vorkforce
https://biblicalparenting.org/wp-content/uploads/2020/06/NCBP-Logo-with-hearth_medium-300x180_OP.png
anna.vorkforce
2023-06-14 14:37:57
2023-06-15 04:12:31
Rock Your Parenting World With Our Newest Video Training Program: Home Improvement