"Home Improvement: A Practical Theology of Parenting" An 8-part video series by Dr. Scott Turansky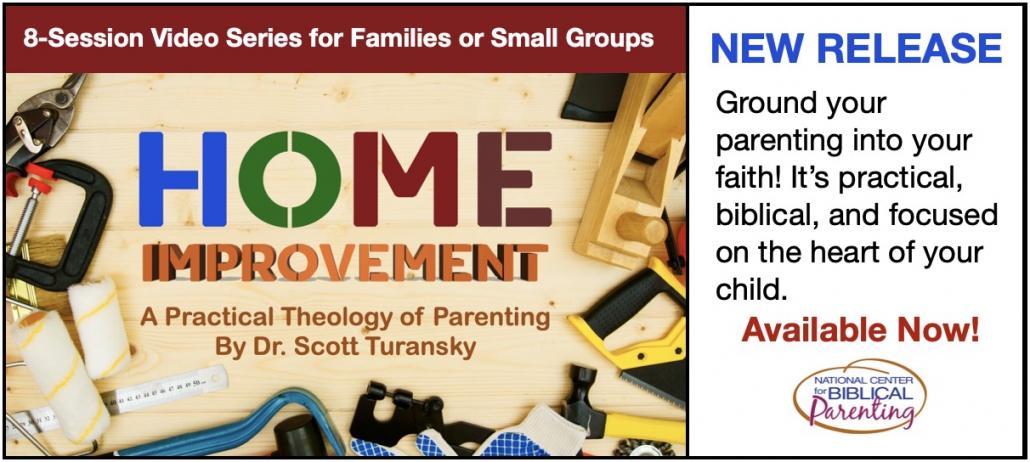 We, at the National Center for Biblical Parenting, are excited to announce the release of a powerful and transformative parenting video series by Dr. Scott Turansky, titled Home Improvement: A Practical Theology of Parenting. This comprehensive series consists of eight engaging sessions that delve deep into the challenges faced by families today, offering practical solutions rooted in the wisdom of God's Word. The best Christian parenting resources tie faith to practical solutions and this is an inspiring example you'll enjoy.

Key Features:
Comprehensive Video Series: The Home Improvement video series comprises eight
thought-provoking sessions, each focusing on a crucial aspect of family life. Dr. Scott
Turansky provides insights, guidance, and practical strategies to help parents navigate
common challenges and cultivate healthy relationships within their families.


Session 1: A Theology of Obedience: It's not just about the task, it's about the process.
Session 2: A Theology of Repentance: It's time for a change of heart.
Session 3: A Theology of Correction: A good response to correction makes all the difference.
Session 4: A Theology of Morality: Rules are important, but they must be tied to values.
Session 5: A Theology of Emotions: Emotions are good, but can be dangerous.
Session 6: A Theology of Discipleship: Always keep the bigger picture in mind.
Session 7: A Theology of Wisdom: Teaching kids to learn from life equips them forever.
Session 8: A Theology of Strongholds: Deeply rooted challenges need a strategic approach.

Interactive Workbook: Included with the video series is a companion workbook that
contains discussion questions for small groups, reproducible note-taking pages, and
further insights into each theology discussed. This workbook facilitates deeper
exploration of the topics covered in each session, enabling families and church groups to
engage in meaningful discussions and apply the teachings to their own situations.

Accompanying Book: To enhance the learning experience, the video series is
accompanied by a book called "Home Improvement: The Parenting Book You Can Read
to Your Kids." This book serves as a valuable resource for parents, offering additional
insights and practical tips to reinforce the principles covered in the video sessions.
The Eight Topics Covered in the Video Series:

Video Testimony:
We invite you to watch a heartfelt video testimony featuring a mom and her two daughters who have experienced the transformative power of the "Home Improvement" book. In this video, they share their personal journey and how reading the book has positively impacted their family dynamics. Watch the inspiring video testimony here:

To get a glimpse of what the "Home Improvement" video series offers, we encourage you to
watch this one-minute promotional video:

"Home Improvement: A Practical Theology of Parenting" video series by Dr. Scott Turansky is an invaluable resource for parents seeking to nurture healthy, God-centered relationships within their families. Through engaging sessions, an interactive workbook, and an accompanying book, this series equips parents with practical strategies rooted in faith.
Don't miss out on this opportunity to strengthen your parenting skills and deepen your family's connection. Use the discount code "ParentSavings" to enjoy a 10% discount for churches and individual families. Invest in your family's future today!
https://biblicalparenting.org/wp-content/uploads/2023/05/HI-New-Release.jpg
544
1212
Scott Turansky
https://biblicalparenting.org/wp-content/uploads/2020/06/NCBP-Logo-with-hearth_medium-300x180_OP.png
Scott Turansky
2023-05-13 03:46:25
2023-05-25 11:08:54
"Home Improvement: A Practical Theology of Parenting" An 8-part video series by Dr. Scott Turansky